Videos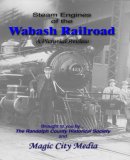 Steam Engines of the Wabash Raiload
In all but eleven years of it's history the Wabash Railroad ran on steam power. Through all of those years that included expansions, acquisitions, bankruptcies, mergers, the Civil War and train robbers, Wabash Steam locomotives served the America's Heartland. Included in that history of the railroads that eventually became the Wabash is the creation of many cities, towns and villages, including the birth of Moberly Missouri the "Magic City", in September 1866.

Sit back and reminisce with us as our pictorial tour of "Wabash Steam" takes us from the early days of railroading up through the early 1960's. Enjoy this video featuring more than 300 pictures of the steam engines of the Wabash Railroad. Created using pictures from the collection of Charles Winters this DVD has a running time of 53 minutes.
4th of July 2006

Here's a video clip of this years fireworks display in the city park. It was a really good display this year and was much faster paced than the 2004 video. I didn't do quite as good of a job taping it this year but it still came out pretty good and I edited out the few spots that weren't very good, mainly because I screwed up the focus.
.

Moberly Missouri - Summer in the Heartland

This was a promo video I did to promote my freelance video production work. I would use this video to show different groups a sample of my work.

The Magic City Line
This is a 3 minute video that I did this weekend to promote the miniature train ride in our local park.
Charcoal Foundry
Short video of my simple charcoal foundry used for casting aluminum.